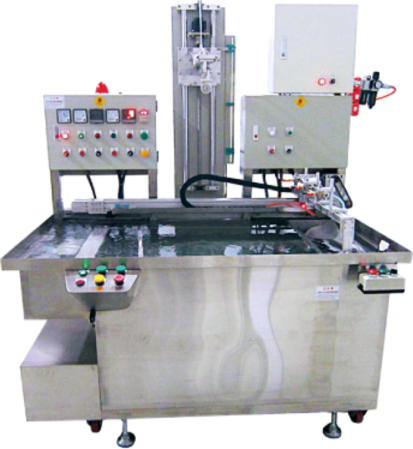 Model: YHT-222AX
| | | |
| --- | --- | --- |
| Item | Specification | Note |
| Dimension | 274 x 180 x 250cm (L x W x H) | |
| Tank I.D | 200 x 130 x 70cm (L x W x H) | |
| Efficient Film Size | 190 x 100cm (L x W) | |
| Tank Material | Stainless Steel 304 | |
| Tank Capacity | 1820 Liters | |
| Heating | 9kw x 2pcs | |
| Water Circulation | Dual-Filter System | |
| Motor | 1HP | TECO |
| Baffler | 1 set x 50 & 60 & 100cm | |
| Production Arm | 1 set x 0.4kw | |
| Arm Size | 45 x 10 x 250cm (L x W x H) | |
| Arm Movement | Vertical type by 5pcs sensors | |
| Arm Control | Servo Motor | |
| Power Consumption | 19.15kw | |
| Machine Weight | 450kg | |
2M Semi-Auto Dipping Machine with Production Arm & Auto Spray System
YHT-222AX Semi-Auto Dipping System:
Manually or vertically dipping by production arm with timing and temperature controlled
hydro dipping tank
.
High durability of dip tank structure with heavy loading production arm and water circulation by dual filters system are the best working tool for your Water Transfer Printing business.
Auto Spray System even activator amount per time. Different kinds of size and types are available
OPTIONS :
A2 Production Arm – Aluminum extrusion
A2 Production Arm is made by aluminum extrusion, with the strengthen material it improves the stability when transfer print heavy or large objects.