Beginner's Guide to Hydrographic Water Transfer Printing
What's Hydrographic Water Transfer Printing?
Water Transfer Printing, known as Hydrographics, Immersion Printing, or 3D Cubic Printing is a technology that decorates 3D-shape parts with exceptional color and appearance. It allows a manufacturer or brand to make parts or products with virtually unlimited appearance options. They can be made with unusual colors or realistic patterns. There are lots of materials for Hydro Dipping. Basically, you can use any materials that can withstand being submerged in water for hydrographic designs.
What's Water Transfer Printing Film Used For?
The Water Transfer Printing Film, known as Hydrographic Film, Hydro Film or Immersion Printing Film, is the material used to create a custom appearance for OEM parts or products. There is ink printed into a large roll of PVA film. It is water-soluble and will start to dissolve when floated on water and the activator chemical is applied. There are wide ranges of water transfer printing films and the most popular patterns include camo, wood grain, carbon fiber, marble, and camo. The camo film is the most popular pattern and is also the common pattern for hydro dipping guns.
Water Transfer Printing: Industries and Applications
Water Transfer Printing is extensively used for different applications. It ranges from aircraft interior, automotive, home appliance, switch to socket wall plate. The Water Transfer Printing is also the best fit for decorating outdoor objects, such as crossbows, rifles, ATV, goggles, sunglasses, etc.
How Does Water Transfer Printing Work?
Generally, the process of water transfer printing, aqua printing or hydro dipping is quite simple. That is to spray base coating on objects, cover by water transfer printing patterns, and spray final top coating. The ingredients you will need are hydro dipping film, activator, and machines. Follow these 7 simple steps and you will turn the concept into liquid reality or start your hydrographic business.
Step 1 : Apply the base coat.
Step 2 : Ensure the surface dries thoroughly after applying the base coat.
Step 3 : Place the water transfer film above the water for a while and then spray the activator.
Step 4 : Dip it (Applying the pattern)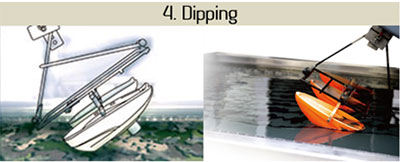 Step 5 : Rinsing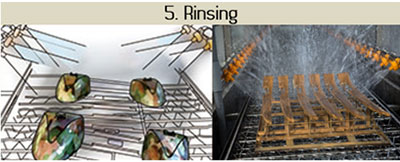 Step 6 : Spray Top Coat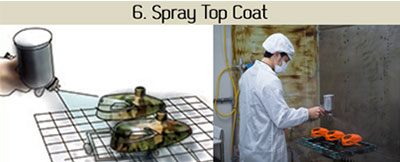 Step 7 : Drying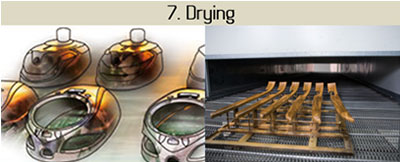 Must-Have Equipment for Water Transfer Printing
You can have your water transfer printing by manual, semi-automatic or fully automatic systems. Each of them has their features and cater to different imaging requirements. You will most likely need the following equipment for starting your hydro dipping.
Painting Line

Oven

Hydrographic Dipping Tank

Water Washing Station

Read also : Professional Hydro Dipping Equipment and Automatic Water Transfer Printing Equipment
Custom Water Transfer Printing Films
With a complete backup from the supplier that covers every aspect of material verification, film design, full-line equipment options, dipping process training courses and long-term after service, you will be able to get a cost-effective and quality custom design. The examples are :
Start Your Hydro Dipping Business with YHT
YHT is proud to be an industry-leading water transfer printing film and equipment manufacturer. The company and our water transfer films are certificated by ISO and SGS. We specialized in custom, high-volume water transfer printing projects. We had helped over 1000 businesses and brands to get started with hydrographic. Well-known and highly respected companies around the world employ YHT hydro films such as TWN Industry in the States.