5 Tips for Choosing A Hydrographic Film Supplier
Choosing a Hydrographic Film Supplier to work with or develop your water transfer printing patterns can be a very long and costly process. Here are 5 tips that you must consider when choosing a hydrographic film supplier.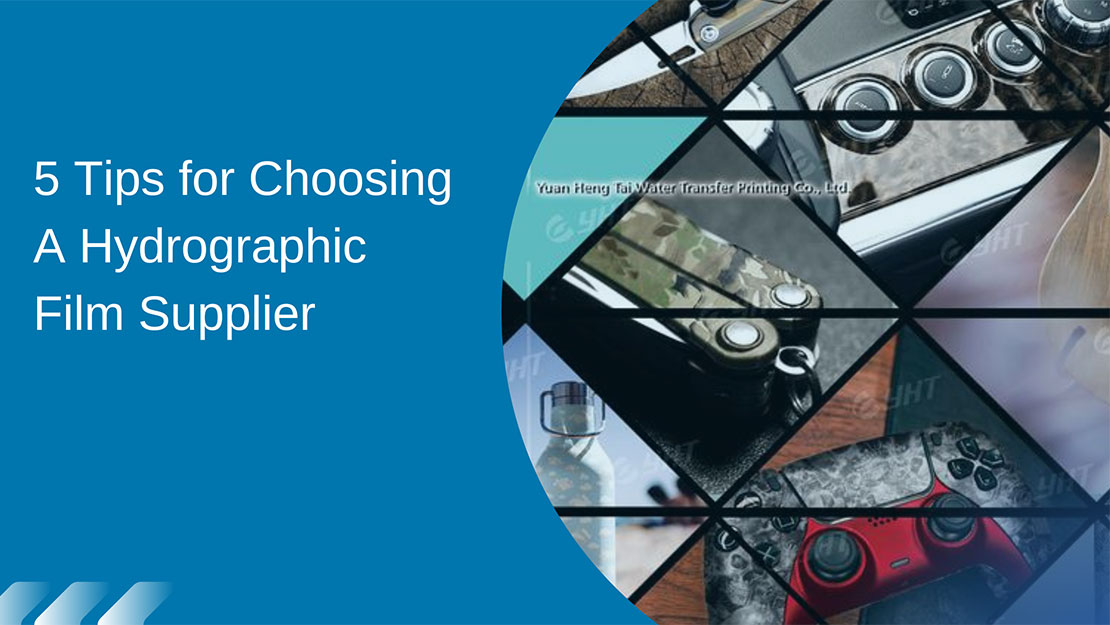 Consider Quality

Quality is the most important factor when choosing a hydrographic film supplier. Water transfer printing can be used for aviation, automotive, hunting, sport, furniture, shoes and more. However, these products are all different in terms of quality requirements. Each of these industries has different quality requirements for their products. For example, an industrial coating might require high durability while an aircraft interior or automotive industries need to be more resistant and other requirements for the safety issues.

Hydrographic films come in different qualities and with different price ranges. You should consider the quality of the films before making any decision on which film to buy. The best way to get the best quality is to go with a reputable manufacturer who has years of experience in manufacturing such products. A good company will offer not only good quality hydrographic films but also give you samples for testing purposes.




Cost

Cost is another important thing for all customers. YHT pursues high quality, but we also understand that high quality comes with a higher price range. When you're choosing a hydrographic film supplier, make sure they offer both high quality and affordable prices so you can get the best of both worlds!

In the same time, value is also a factor. When a product covers a water transfer printing film, the value will increase—so what you have to consider is the balance between cost and value. You don't want to pay too much for your product, but you don't want it to look cheap either! An exaggerated example: obviously, we can pay a high cost to decorate aircraft interiors, but not possible to pay the same for a plate of switch and sockets (which doesn't need that level of customization).

Extensive Knowledge

When choosing a hydrographic film supplier, you should look for one that will not just sell you the product, but also provide a total solution with additional expert advice and reminders. For example, they should be able to tell you whether the product or material is suitable for water transfer printing. The suggestions are based on manufacturers' experience and knowledge, but it's ultimately up to you to decide whether to go ahead with the purchase.

A good hydrographic film manufacturer will also have extensive knowledge of their product range and be able to advise customers on how best to use them within their own business.




Read Also : Beginner's Guide to Hydrographic Water Transfer Printing




Credibility

It's important to choose a manufacturer who has experience manufacturing quality products for companies that you are familiar with or recognizable brands.

At YHT, we work with many international well-known brands for different industries, like aircraft interior, hunting equipment, automotive, home appliances industries, etc. We know what it takes to deliver high-quality products on time and budget—and we can help you too!




Read Also : Beginner's Guide to Hydrographic Water Transfer Printing

Experience

It's important to establish how much experience your potential supplier has in the field. All of us desire to work with companies that understand our industry, and familiarity with our field is a good first step. There's easier work with experienced suppliers, it can guide/support you in a new project.

A good supplier should be able to show you examples of projects they have done before. This will help you to better understand how they approach each individual project and also give you an idea of what results they can achieve for you.

We hope these 5 tips will help you choose a hydrographic film supplier that best fits your needs. Consider all the factors above and make sure to look at the overall package being offered.
If you want to know more about these and our other hot hydro films, please check the link below. Water Transfer Printing Films
Or you want to know more those common camo film for guns, please refer to another article : Camo Films - 3 Most Common Hydro Dip Gun Patterns